Fasten your seat belt and put your trays in the upright position, please. We're about to touchdown at the Check-In Party, a boutique indie rock festival held in the heart of France. The airport themed camping festival debuted this summer with nearly 15,000 French festies and a roster of indie rock favorites.    
Day #89 of 100: Festival #13 of 15
Another first for the 100 Nights of Summer Tour! I'm attending two festivals in the same country in two consecutive weekends. I was already bumming around the neighborhood at La Route du Rock, and when I saw the lineup for Check-In Party, I scrapped my plans and headed straight to the middle of nowhere, France.
PHOTO GALLERY: CHECK-IN PARTY 2019
1. Running the Numbers
2. The Scene
3. Musical Highlights
4. Stray Observations
5. Travel Notes
6. Final Notes
Running the Numbers
Check-In Party Stats:
Dates: August 22-24 , 2019
Editions: 1
Attendance: 15,000
Artists: 32+
MFW Beer Index: €4.50
Highest/Lowest Temperature: 30C/16C (61F/86F)
Reusable Cups? Yes!
Free Water Stations? Yes!
100 Nights of Summer Stats:
Days on the Road: 88
Countries Visited: 14
Festivals Attended: 13
Festival Days: 35
Festival Days w/rain: 5
Days Camping: 24
100 Nights of Summer Festival #9 2015: Open Air
100 Nights of Summer Festival #9 2016: Dimensions
100 Nights of Summer Festival #9 2017: Electric Fields
100 Nights of Summer Festival #9 2018: Karkle Live Music Beach
The Scene
The Venue: Montluçon-Guéret Airport
The rolling hills and grassy fields of northeast Nouvelle-Aquitaine set the stage for Check-in Party. As you might have guessed from the name, it's a small regional airport. Like most indie rock festivals in France, this is a cozy affair, with all four stages within a stone's throw of each other. Camping is a five-minute walk away with plenty of room in a comfortable (and flat!) grassy area.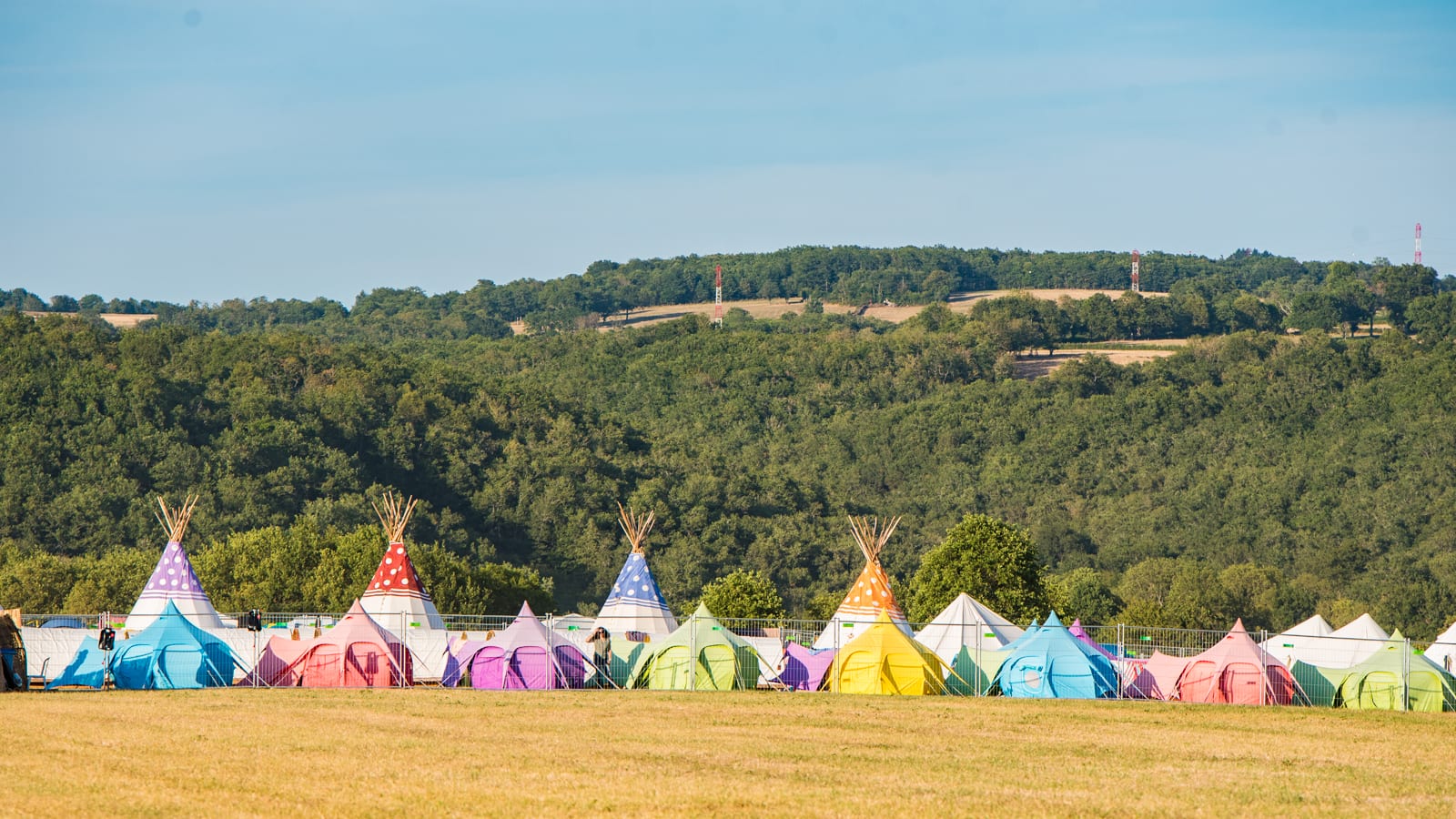 The Crowd: French and Fun
There's more than a few similarities with this festival to La Route du Rock, and the crowd was almost a mirror of the previous weekend — I even recognized a dozen or so festies. Other than the artists, I'm not sure if anyone else here was from outside France and the age range is pretty diverse. Unlike La Route Du Rock, the weather was outstanding which meant far more happier faces.
The Music: Up Close and Personal
I came for the music and was not disappointed. Below, I'll talk a bit more about specific artists, but overall this is your typical indie rock lineup with up and comers, established acts, a couple legends, and French talent. What I adore about this French style of music festival is that even the main stage is easily accessible and you can get as close to the action as you desire.
Music Highlights
Acts I Caught and the Unofficial Order in Which I Enjoyed Them
Patti Smith
Gogol Bordello
Les Colonies Des Vacances
Oh Sees
Slaves
Deerhunter
Foals
Altin Gun
Yak
The Inspector Cluzo
The Psychotic Monks
Lysistrata
Black Midi
Favorite Set: Patti Smith
Patti Smith headlined an all-female lineup for the kickoff on Thursday of Check-in Party. She played everything including covers from Jimi Hendrix and Midnight Oil along with quotes like: "The President of Brazil is a fucking idiot and my president is a fucking idiot. We have to unite." Preach.
New Favorite Band: Foals
What can I say? It's been five years and I've never seen them live. The headliners of Friday night put on a hell of a show.
Most Creative: Les Colonies Des Vacances
This is so cool. The audience is surrounded by four mini-stages while all 11 members of this collective bombard them with an aural assault. I'm a huge fan when festivals break the mold of a normal show and push the limits of live music.
Festival All-Stars: Slaves
The duo of Laurie Vincent and Isaac Holman (below) are a ball of pure British punk energy. They play a ton of festivals, so if you're over here in Europe, check them out.
Lysistrata
Loud. Punk. French.
Best Way to Start a Saturday: Gogol Bordello
This gypsy punk band was one of my first festival loves, so being able to watch and photograph them this close is such a treat.
Stray Observations
Indie Rock Stars: They're Just Like Us
Sure, Bradford James Cox from Deerhunter could watch the Oh Sees from the side stage, but the side stage sucks and everything is better from the photo pit.

Level Up
I bought a new camera lens for the 100 Nights of Summer tour, and while I may stress over the dwindling funds in my life budget, at least I'm able to capture the spit flying from the mouth of John Dwyer and preserve it for future generations.
Favorite Quote
"This is our last song. It lasts for an hour." -Yak
This is How You Festival
It's a water station. It's free. Get on board rest of the festival world.
Drummers Front and Center
The drummer in the back row? Go back to 2015, grandpa.
Practical Info
What's the Prime Hours for Music? Bands start around 5:00 PM, with headliners hitting the stage between 10-11 PM, and electronic artists starting up after 12:30 AM.
What's the Weather Like? Possibly the nicest weekend of the summer with clear, sunny days and cool nights for camping. I didn't have to worry about the heat or the rain for a change.
How Did You Get There? The trains out to Check-In Party are sparse, so your best bet is to book a BlaBlaCar (a European ride-sharing service) from nearby Lyon.
Where Did You Sleep? This is my sixth festival in a row camping, and let me tell you that I'm starting to look and smell like I live at a music festival, which I do, but I also would prefer to live indoors at a music festival. I will say that between the weather, the distance to the main gate, and the showers, this was the best camping experience of the summer.
Final Thoughts
A solid turn-out for the first edition of Check-In Party bodes well for the return of this festival. The 15,000 person capacity event saw 14,000 show up according to local papers, so I would expect to see this back in 2020. The airport venue has plenty of room for expanded capacity, although I hope organizers keep Check-In Party as intimate as this first year.