It may be a small festival, but Maifeld Derby in Mannheim packs a powerful lineup. While the focus remains on indie rock, nearly every other genre of music is represented here and it's become a favorite for 100 Nights of Summer.
Day #25 of 100: Festival #4 of 15
Maifeld Derby may have one of the most ideal festival schedules of all time. It starts a little later on Friday (4:00pm), ends a little earlier on Sunday (10:00pm), and the four stages are packed with wall to wall music. And yet, even in that condensed time frame, the festival is so relaxed that I never feel any stress. Down below, I run through some highlights of the fest.
For more of the of the Maifeld Derby experience, check out the full photo gallery right here, our recap from last season, and even more photos!
Running the Numbers
Maifeld Derby Stats:
Dates: June 15-17, 2018
Editions: 8
Attendance: 4500
Artists: 50
MFW Beer Index: €3.50
Highest Temperature: 26C (78F)
100 Nights of Summer Stats:
Days on the Road: 25
Countries Visited: 5
Festivals Attended: 4
Festival Days: 12
Festival Days w/rain: 6
Days Camping: 6
The Daily Breakdown
Day #1: Friday, June 15, 2018
11:05 am: I wake up in a stranger's apartment in Germany. Okay, not a stranger, just my charming Airbnb host, Elias. I feel like I wasn't the greatest guest. I glued my hand together trying to fix my fitness tracker, and passed out for eleven hours. Also, I think I'm getting sick.
2:05 pm: I get a haircut at the train station from a lady who speaks almost no English. "Short?" she asks and when I try to explain further, she just gives me a hand wave that says "I've got it from here. Let Maria take care of you." Next up is laundry! Do you feel those chills of excitement crawling up your spine? This is the life of a traveling festival reporter.
5:35 pm: My home for the weekend — the Big Agnes Copper Spur Class —  only takes minutes to set up. The weather is so perfect that I'm leaving the rainfly off for now.
7:44 pm: Hugely talented twins, Ibeyi, deftly switch styles from audience happy sing-alongs to the hauntingly surreal to the inspiring featuring the voice of Michelle Obama.
7:56 pm: You would think as a music festival reporter, I would be completely prepared with things like a schedule of the artists. I am not, but am lucky enough to find a discarded, and mysteriously coded lineup on the ground. I spend the next six hours trying to decipher the clues left behind by this enigmatic fan.
8:05 pm: I'm listening to the loud metal of Malm to prepare me for next week's Copenhell Festival in Denmark. It's officially the first time this summer that I've seen a grown man hump a microphone.
8:56 pm: Klangstof are playing a set of dreamy synth rock. The most apt description of them is that they sound like a band that would open for The Flaming Lips – which they did last summer.
9:15 pm: I don't know much about Yamankata // Sonic Titan, but it's the only artist on my spirit guide schedule with an exclamation point so I go. It's awesome. Always trust the sheet. Later on, I check them out online. Their Wikipedia page tells me they are a "Canadian experimental music and performance art collective."
10:18 pm: Deerhunter and I have never clicked, but seeing them two weekends in a row is warming me up. This dude's hair is what inspired me to see Maria the hairdresser this morning and have her cut it all off.
10:24 pm: Handbrotzeit! It's like someone took a warm loaf of love and stuffed it with rainbows. Actually, it's stuffed with cheese and bacon. I pledge to Handbrotzeit that I will dedicate my life to its delicious melted goodness.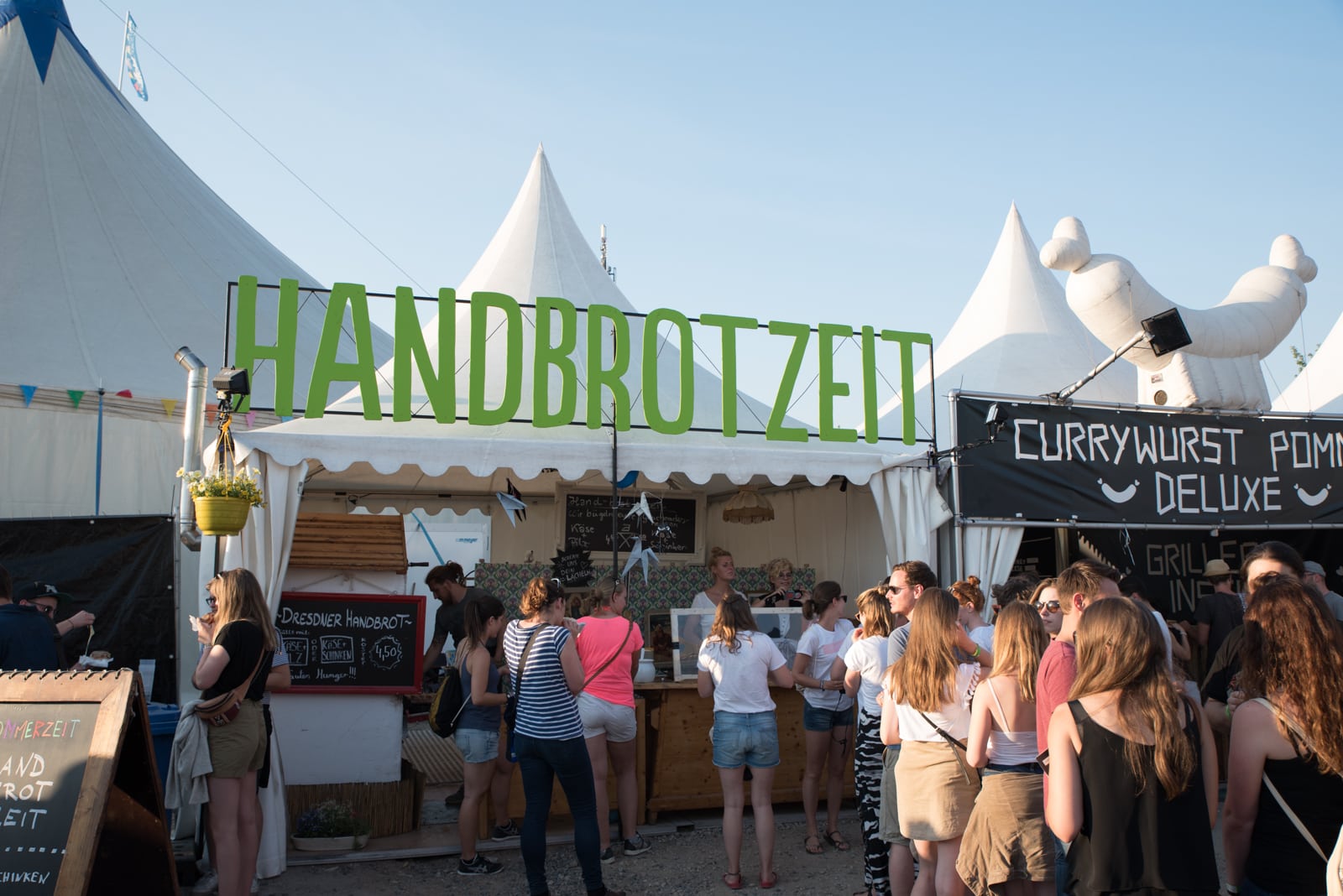 11:21 pm: Nils Frahm is a wizard on the keyboards – all four or five of them, which he plays at once, starting a loop, and running over to his next setup. It's quite an act, completely unique from every band up there.
12:10 pm: There's a German short film festival. Despite not understanding the language, I settle in for the next thirty minutes. Topics covered include unending depression, utter bleakness, murder (twice), the crippling isolation of modern life, gay sex with a teenage prostitute, and of course, puppets.
12:55 am: Jon Hopkins plays at a significant number of festivals, and every single time I get him confused with an older indie rock folksinger. Which one? I don't know, because I always think it's Jon Hopkins, who is in fact a popular UK DJ. All Europe festivals are mandated to include electronic music by EU law (I assume), even indie rock festivals. Time for bed.
Day #2: Saturday, June 16, 2018
2:35 pm: The German word for the day is "Duschgel Damen". I thought it meant shampoo, but it actually means "ladies shower gel". I don't care what it's called as long as it smells like coconut. I also forget that European shower bottles have a tendency to open in your backpack.
4:44 pm: Meet a festie. Michael from nearby Heidelberg always brings a horse mask with him to festivals. He admits it gets hot and his vision is almost total blindness. He seems familiar and we realize that we were both at Down the Rabbit Hole together in 2016. "The weirdest thing about the Dutch is that they kept trying to touch me…like put their hand into my mouth."
5:35 pm: My two favorite things. Reusable cups and unicorns. My third festival in a row with this cup system and my third festival in a row with almost no litter on the ground.
5:42 pm: Their sign reads "Hi! We're HINDS and we came here to rock." Mission accomplished for this Spanish foursome.
7:05 pm: It's the annual competition where humans compete on hobby horses for tickets to next year's Maifeld Derby. Competition is intense, and while the crowd is brought to a standing ovation by a couple of adorable kids, I found my heart won over by the guy who mimed having his horse blow him to a very loud glitter-filled completion.
7:40 pm: I'm only able to catch the last ten minutes of Tank and the Bangus, and holy shit, this band is fun, closing out their set with a cover of Smells Like Teen Spirit that literally had the whole tent jumping.
8:22 pm: Ripping fun with hard rocking All Them Witches during a beatiful sunset.
10:00 pm: My first band clash! I watch the first ten minutes of the Wombats and run over to This is The Kit to catch a few songs, but end up staying for the entire set. The Wombats are high energy dance music, but my mood is more suited to the soothing indie folk of Kate Stables.
11:00 pm: I'm back to see The Wombats finish their set and it's straight into Editors in the Big Top. It's a perfect double whammy of UK rock for a Saturday night.
Day #3: Saturday, June 17, 2018
4:30 pm: First impression of Young Fathers is "slightly older boy band". I duck out.
4:45 pm: I'm scoping out a sweet Western shirt that I definitely can't afford at the vintage stand. There's a woman next to me trying on scarfs. "There's a lot to do here besides just the music and the drinking," she says. "I like it very much."
5:30 pm: There's a massive crowd gathered at the edge of the field, so dense that I can't even see through the masses. What's happening? A secret show?! Nope. It's the World Cup.
6:22 pm: Alison Mossheart from The Kills is a rock goddess.
7:45 pm: The Kills roll straight into Black Rebel Motorcycle Club or as the guy next to me explains to his friend, "Motorcycle Rebel Black Something Something Something."
9:45 pm: "Goddamn right, it's a beautiful day." I could have said it better. Cowbells. Maracas. Covers of Prince songs. Canadian tuxedos. There's great performers and then there's great festival performers, worthy of closing out a festival, and the Eels frontman and sole original member, Mark Oliver Everett, puts it all out there for the last ninety minutes of Sunday night, finishing off this eighth edition of Maifeld Derby with "I'll see you all in jail."
Final Thoughts
Like I've said about the last few fests, Maifeld Derby is a treat for people who are weary of the mega-festival experience. There's a clear identity to this festival, and the staff has done an amazing job putting together a weekend of DIY vibes. Hope to see you there next year.