As an answer to the corporate mega-festivals, smaller indie rock festivals like Sideways have been seeing success across Europe in recent years. This DIY fest in Helsinki features three days of eclectic indie acts from both Finland and around the world.
Day #12 of 100: Festival #2 of 15
My first time covering a Finnish music festival and first time ever visiting the country! I've also hit the milestone of reporting in from 30 different countries in Europe over the last five summers and Sideways was a welcome introduction to the land of the midnight sun.
PHOTO GALLERY: THE ARTISTS OF SIDEWAYS 2019
PHOTO GALLERY: THE ATMOSPHERE OF SIDEWAYS 2019
1. Running the Numbers
2. The Scene
3. Musical Highlights
4. Stray Observations
5. Travel Notes
6. Final Notes
Running the Numbers
Sideways Stats:
Dates: June 13-16, 2019
Editions: 5
Attendance: 15,000
Artists: 80+
MFW Beer Index: €11.36
MFW French Fry Index: €3.50
Highest/Lowest Temperature: 29C/16C (84F/61F)
Reusable Cups? No
Free Water Stations? Yes
100 Nights of Summer Stats:
Days on the Road: 12
Countries Visited: 4
Festivals Attended: 2
Festival Days: 5
Festival Days w/rain: 0
Days Camping: 2
100 Nights of Summer Festival #2 2015: Copenhagen Distortion
100 Nights of Summer Festival #2 2016: NOS Primavera Sound
100 Nights of Summer Festival #2 2017: This is Not a Love Song
100 Nights of Summer Festival #2 2018: This is Not a Love Song
The Scene
The Venue: Party at the Ice Hall
The Helsinki Ice Hall (aka The Beast Cave) is transformed into a musical mecca with a mix of six indoor/outdoor stages. It's far from the most scenic venue to hold a festival, but one of the beauties of having a permanent venue is that bands can play relatively close to each other at the same time. This is not a festival where you will be winded from running between acts and you can easily walk across the entire grounds in under five minutes.
The Crowd: Hipsters of Helsinki
This is very much a local festival filled with the denizens of Helsinki, and they are a very chill, very cool, crowd sporting floral clothing, stylish mustaches, and beautiful tattoos. Scandinavians are a bit wary of strangers, but when you combine it with the typical stand-offish vibe of an indie rock crowd, this was a tough place to make festival connections. On the other hand, everyone here does speak excellent English so if you're a traveling festie, this is an simple event to navigate.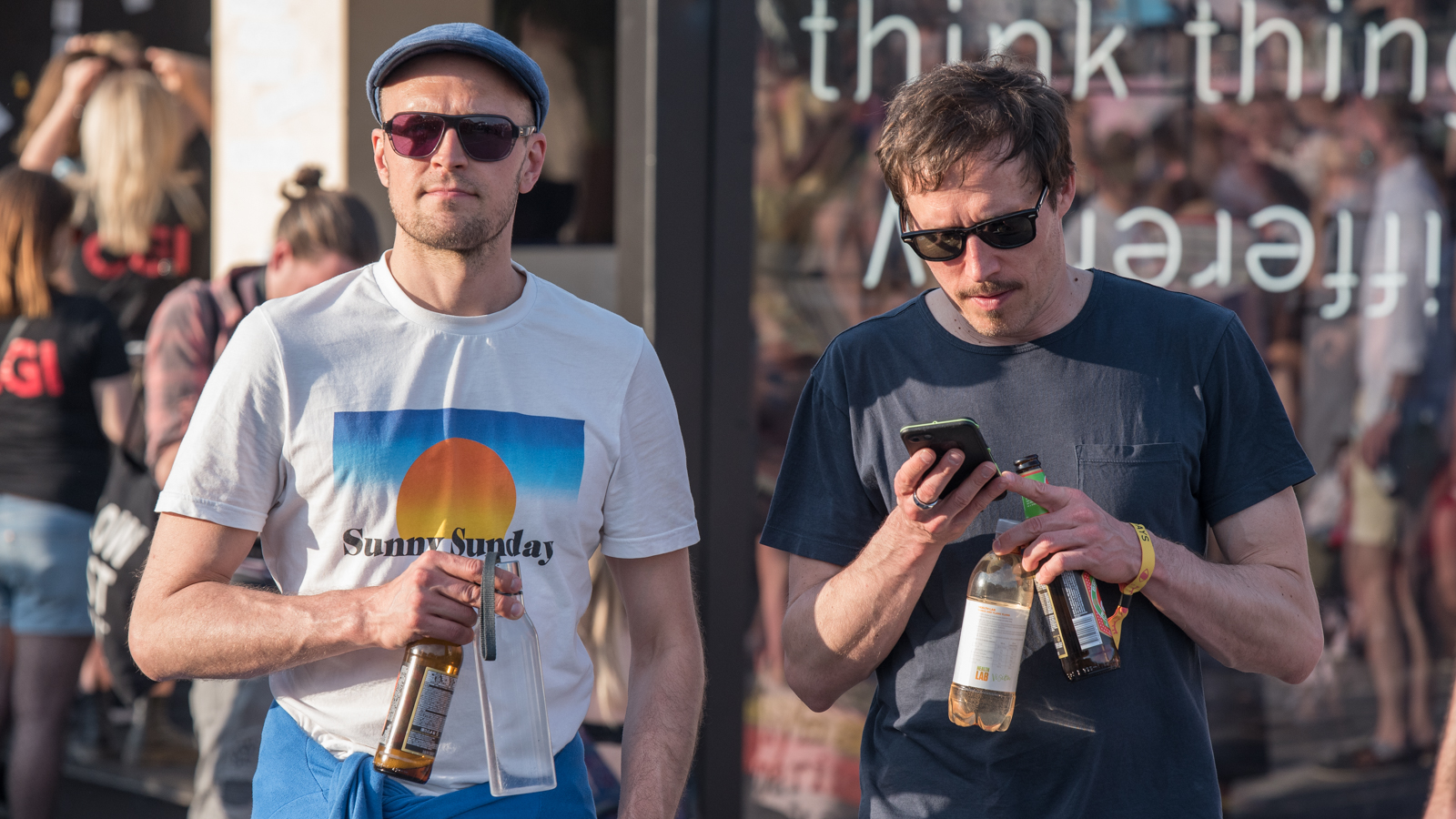 The Music: Indie Rock Heaven
I can't even tell you how much I love this style of music festival. Sideways runs from Thursday night to Saturday night with the bulk of the music starting in the late afternoon (4-5 pm) and the main headliners finishing by midnight. This is not a festival where you need a full week to recuperate afterwards. The one glaring issue with the lineup is that with a condensed time-frame like this, there were way too many set clashes. See more on the standout sets in the below.
Festivaling in Finland: Land of the Midnight Sun
The most surreal part about attending a festival in Finland near the summer solstice is that it never really gets dark. The sun "sets" around 11:00 pm, but still bright enough that I rode a bike home without any lights. For someone who likes to a take a few photos at a festival I was loving all the extra light. On the down side, I kept waking up at odd hours, especially since the birds outside my window never go to sleep.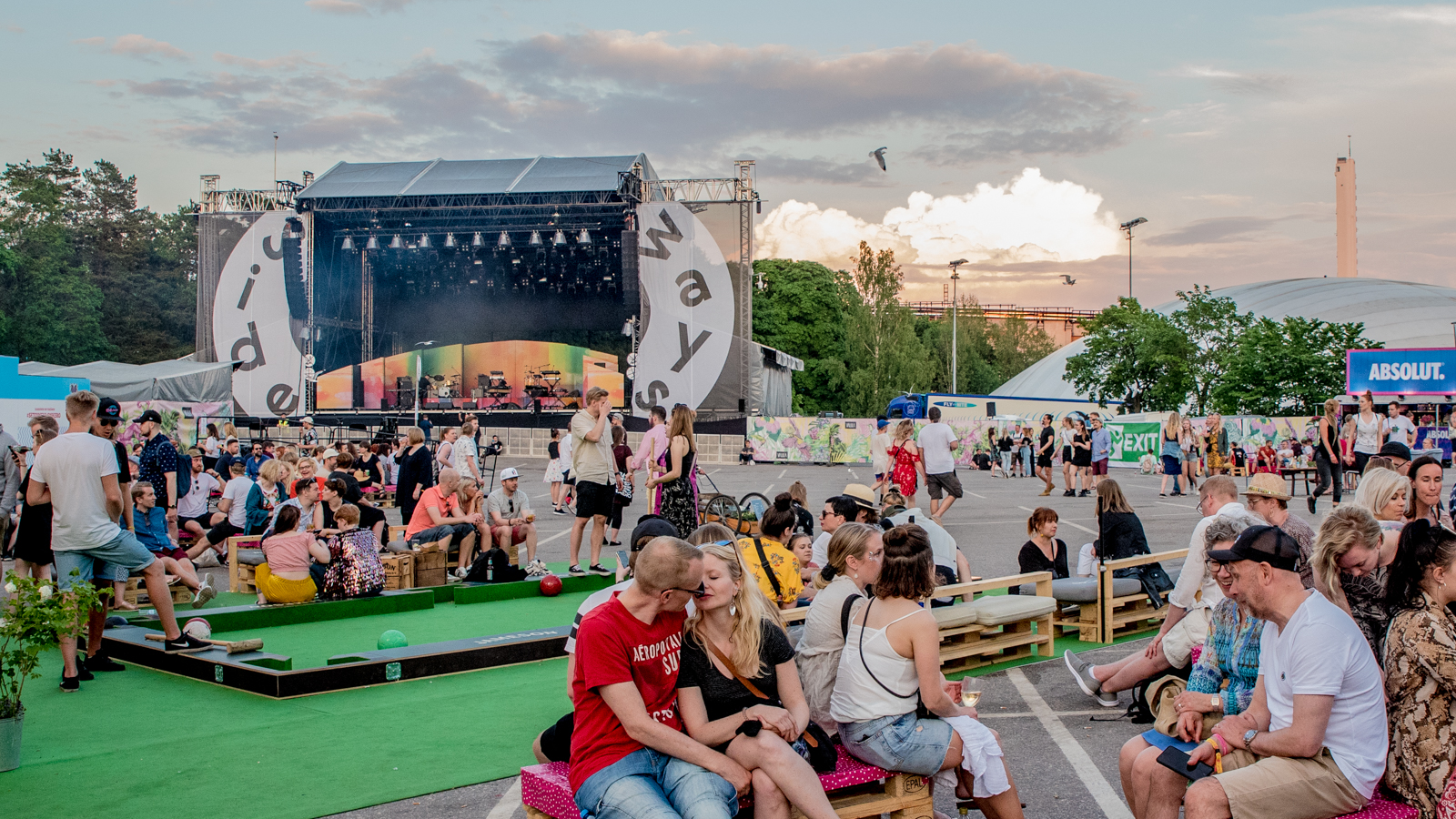 The Activities: Pinball, Wrestling, and More
The bowels of the Ice Hall held many secrets with a subterranean basement stage that not only featured some of the more offbeat acts of the festival, but also Finnish pro wrestling. I spent most of my time at the Sideways Arcade, a collection of pinball machines from just about every era of history. Live theater, a vinyl record shop, and drag queen shows were also on tap.
Music Highlights
Acts I Caught and the Unofficial Order in Which I Enjoyed Them
IDLES
Stephen Malkmus and the Jinks
Amyl and the Sniffers
Georgia
Low
Let's Eat Grandma
Kurt Vile and the Violators
Empress Of
Hot Snakes
The Holy
Danny Brown
Kate Tempest
Henrik!
Cass McCombs
D.R.E.A.M.G.I.R.L.S.
Nas
Olavi Uusivirta
Hot Chip
Chisu
Gazelle Twin
Suede
Festival All-Stars: IDLES
The boys from Bristol continue to impress as a live festival act. Whether it's letting the crowd play guitar, inviting two fans up on stage to shred during the finale, or crowdsurfing to a Bon Jovi singalong, the entire punk rock set never lets up on the energy. Cant' wait to see them again next week at Nova Rock.
Bucket List Artist: Stephen Malkmus and the Jicks
As Stephen Malkmus explained to us — the Jicks aren't Pavement, but sort of. "We wear different underwear", the drummer shouted out, only one of the multiple unexpected comedic moments of the set that also included musings on airline baggage fees ("I didn't pack sunscreen to save $50"). It all wrapped up with a cover of Summer Babe (The Winter Version) that gave me chills.
Best New Artist: Amyl and the Sniffers
More punk rock, this time on one of the smallest stages at Sideways, Amyl and the Sniffers from Australia is wall to wall noise and energy. Tongue out at the crowd and rocking a mullet, frontwoman Amy Louise Taylor is a force to be reckoned with.
Unexpected Surprise of the Weekend: Georgia

I didn't even realize until the second day that there was a small stage hidden upstairs in the Ice Hall. Hearing a roar from the crowd, I made my up there to find Georgia, a UK artist I hadn't heard of pounding out dance-friendly electropop.
Most Naked: Henrik!

Finnish punk band Henrik! started out the set by lobbing Capri Suns into the audience then proceeded to disrobe to varying states of nudity ending with the front man going with the full Monty — and me seeing more Finnish dick than I ever thought I would see in this life.
Stray Observations
What's in the Basement?
An unmanned and unassuming door in the corner of the venue led downstairs into the darkness to the stranger side of Sideways. The acts down here tended to be equal parts intriguing and bizarre. And of course, there was that one time I went down to find a ring set up and Finnish pro wrestling match.
Art on Your Arms
Finland boasts the highest percentage of full sleeve quality tattoo art in the world, a statistic I made up after seeing so many incredible pieces over the weekend.
Trash Bin Pose of the Week
In a venue with literally dozens of Instgrammable opportunities, this dude chooses the trash bin. You do you, jean shorts guy.

Computer Confessional
Just a creepily lit hallway with a laptop that says "WRITE DOWN SOMETHING YOU ONCE LEFT UNSAID AND PRESS ENTER".

Favorite T-Shirt
We Are a Boy. We Are a Girl.
Word of the Week: Kalsarikännit
The feeling when you are going to get drunk home alone in your underwear – with no intention of going out. –From Visit Finland
Practical Info
What's the Prime Hours for Music? I would say most of the acts got going around five or so in the afternoon with headliners finishing up around midnight. The schedule starts later on Thursday and Friday and runs longer on Saturday.
What's the Weather Like? It's early summer in Finland which means it can be hot in the afternoon, cool in the evening, and most likely will rain. Having said that, I saw almost no moisture over the weekend other than a few sprinkles late on Friday afternoon.
How to Get There? The Helsinki Ice Hall is located about 15 minutes north via public transportation from downtown. There are buses and trams at all times of night and I never had trouble getting there. You can rent public bicycles (€10 for the week).
Where Do I Sleep? Helsinki can be expensive for lodging. I stayed twenty minutes from the Ice Hall (and 30 minutes north of downtown) in an unexceptional pseudo hostel for about $40/night. In the future I would aim to stay somewhere closer to the city center.
Any Weird Drinking Laws? All stores stop selling liquor at 9:00 pm. Stock up.
Final Thoughts
There's plenty on the Sideways menu for an indie rock festie to feast on, and this time of year is ideal to visit Helsinki. The English-speaking crowd, the central location, and the intimate setting all combine to make this one of the easiest festivals that you'll ever attend.