Zaxidfest, just an hour outside of Lviv, is one of Ukraine's largest open-air camping music festivals. A costume-clad crowd gathers for three days of rock and metal, partying all night in the forests and ponds of the aptly named "Magic Valley." 
Day #95 of 100: Festival #14 of 15
Ukraine! There's a burgeoning music festival scene here, and while some of the more mainstream fests take place in the capital of Kiev, I opted to check out a metal/rock themed festival out in the wilds of the west. I camped in the forest, drank vodka with fellow festies, and got my first taste of Ukrainian music festivals.
1. Running the Numbers
2. The Scene
3. Musical Highlights
4. Stray Observations
5. Travel Notes
6. Final Thoughts
Running the Numbers
Zaxidfest Stats:
Dates: August 24-26, 2018
Editions: 10
Attendance:
Artists: 30+
MFW Beer Index: €0.75
Highest/Lowest Temperature: 12C/29C (53F/84F)
100 Nights of Summer Stats:
Days on the Road: 95
Countries Visited: 15
Festivals Attended: 14
Festival Days: 43
Festival Days w/rain: 18
Days Camping: 22
100 Nights of Summer Festival #14 2015: Amesterdam Woods
100 Nights of Summer Festival #14 2016: Electric Picnic
100 Nights of Summer Festival #14 2017: Festival No. 6
The Scene
The Magic Valley
Ponds, river, and lots of grassy fields serve as the home for the citizens of Zaxidfest. After being dropped off on the shoulder of the highway, I followed the others through a densely shadowed forest road, which eventually opened up into the beautiful grassy stages of the Magic Valley.
The Lay of the Land
Zaxidfest has one massive main stage that alternates act with a nearby second stage, but my favorite of the weekend had to be the indie stage, located in a cozy field next to one of the ponds. It was just a very chilled out place to catch some unique artists.
Wild Camping
There's a few things that stand out at my first camping festival in Ukraine. For starters, not only are open fires allowed, Zaxidfest provides a load of firewood to each camper. And it's one of the few festivals I've been to in Europe where you get to camp in a forest, rather than an open field. Finally, if you don't want to pay for the "official" camping, plenty of festies chose to set up camp throughout the forest.
Let Your Spirit Soar
Compared to North America and the United Kingdom, continental Europeans seem have little to no interest in dressing up, so I was pretty surprised to finally find some festival spirit! Lots of cool costumed characters floated around the festival grounds all weekend.
Music Highlights
Acts I Caught and the Unofficial Order in Which I Enjoyed Them
We Butter The Bread With Butter
Pianoboy
Bullet for My Valentine
Sepultura
Pavlik OverDrive
Tommy Cash
Confessions Of A Traitor
Morphine Suffering
Noize MC
Therion
Guano Apes
We Better the Bread With Butter

Therion
Morphine Suffering
Stray Observations
Best Costume: Thor 
Look closer at this costume and you will see that this dude has handcrafted nearly every piece. Epic work.
The God of Rain: Part II
It may have rained every day I was at Zaxidfest, but that's always the best time to make new friends at a festival. My campsite neighbors introduced me to Ukrainian vodka on Friday, and these three girls below showed me the wonders of Ukrainian wine on Saturday.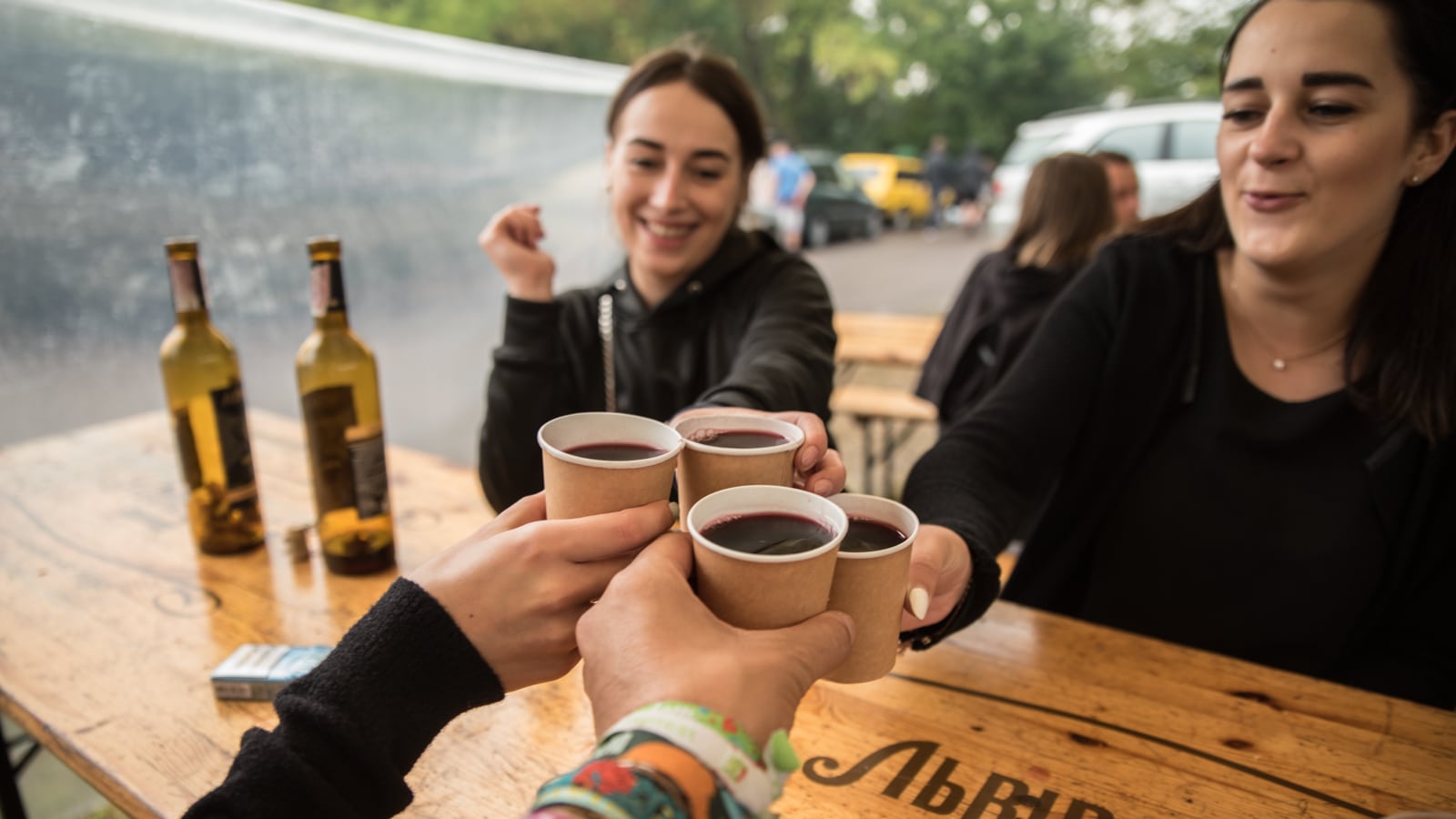 Worst Costume
I thought at first that this guy was wearing was a t-shirt and underwear. Nope. Just the t-shirt and a way too small hip pack across his junk.
Wizards Everywhere!
Turns out Ukrainians like wizards as much as we do.
Best Budget Raingear
Just get a roll of plastic wrap and go nuts. Don't forget the hood!

Best Tattoo
I see you. 
Travel Notes
Where Did You Sleep?
I camped in the forests of Magic Valley, but met more than a few people that, traveled back and forth each day from Lviv, where you can find cheap places like Dream Hostel ($8 USD) all over the city.
How Did You Get Around?
There's plenty of buses ($2.50 USD) from the central train station to Zaxidfest.
How Did You Get There?
It was either an 18 hour bus ride ($45 USD) from Vilnius to Livv or a much shorter flight on Ukranian Air ($60) via Kiev. It should have only been about five hours of flying, but I got stuck in Kiev for over five hours while they had to fix something on the plane. You can also fly into Katowice or Krakow and catch a train to Lviv (about 6 hours and $25 USD).
Final Thoughts
Traveling to a new country by yourself is an experience, but traveling to a new country and going to a music festival by yourself is an absolute wonder. The Ukrainians I met over the weekend were friendly and fun, showing me a side of the country that I just wouldn't have seen otherwise.