It's a new world and a new type of traveling. For the next 100 days, I'm exploring Macedonia as safely as possible. For Day #10 of 100 Days of Travel, I'm heading to the highest mountain town in the Balkans for an easy hike of ski hills, mountain lakes, and strange monuments. 
A Short History
Kruševo, the highest town in Macedonia and the Balkans, has been a part of the Byzantine Empire, the First Bulgarian Empire, the Serbian Empire, the Ottoman Empire, the Kingdom of Yugoslavia and for 10 short days in August of 1903, it was an independent country – the Republic of Kruševo. In recent years, it's become an outdoor recreation destination with options for hiking, paragliding, and downhill skiing.
Hike Details
Difficulty: Easy
Type of Hike: Dirt road and trails
Distance: 10 kilometers*
Time: 4 hours
Starting Point: https://goo.gl/maps/
Finding the Trailhead
The hike begins at the Hotel Montana Palace. Grab a coffee or breakfast on the amazing open patio with gorgeous views of nearly all of Kruševo.
Just outside the front door are a few signboards outlining trails and additional hikes in the area. I followed the bottom loop, choosing to skip a second loop which features the Cross of Christ and the St. Nicholas Orthodox church.
On the Hike
After less than 15 minutes in the forest, you will end up on the ridgeline which can be followed to Ski Center Kruševo. It's a nice open walk with an option to take a short rest at a monastery. The trail was lined with fresh blackberries, plums, and green apples in September, so one of the tastier hikes this autumn.
Check out these super cool acorns! I definitely can recommend cracking one open and not eating it.
Here are the views from the top of the ski hill. It's gorgeous.
Past the ski center base lodge, I continued trekking various roads and trails through tobacco fields. This is more of a ramble than a hike, so I wasn't too concerned with getting lost or following the correct trail. And yes, that's a shepherd herding sheep like some sort of idyllic Balkan afternoon.
You should eventually hit a paved road and across the street is the Silva Monument. Don't worry about the roving pack of wild dogs guarding the entrance. They are friendly.
After the monument, I followed a smaller trail back down into the valley and took a relaxing break at Krusevo Lake. I got lost three times back here, but you should be fine as long as you are not distracted by blackberries.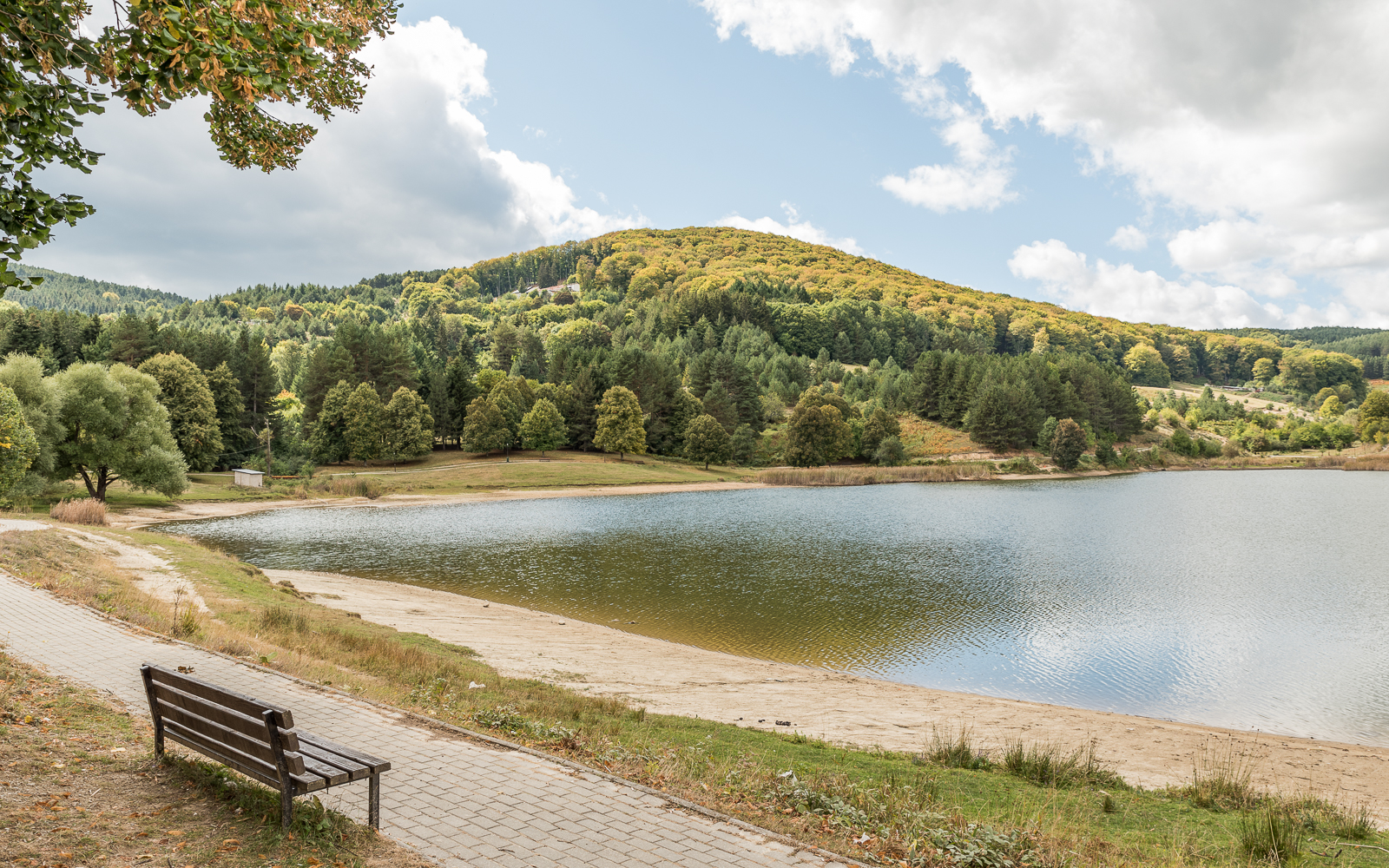 Make sure to take a short detour on your back to town and marvel at one of the most unique sights in Macedonia – the Makedonium! It's a monument to the resistance fighters of Macedonia and looks suspiciously like a fifty-foot high coronavirus.
Details, Details, Details
Where to Stay: Kruševo is a tourist town so there are a number of accommodations. Alternatively, you can stay in Prilep and make this an easy day-trip, but I recommend posting up here. Look at this view from my balcony! Okay, so the room didn't have working heat or any toilet paper, but look at this view!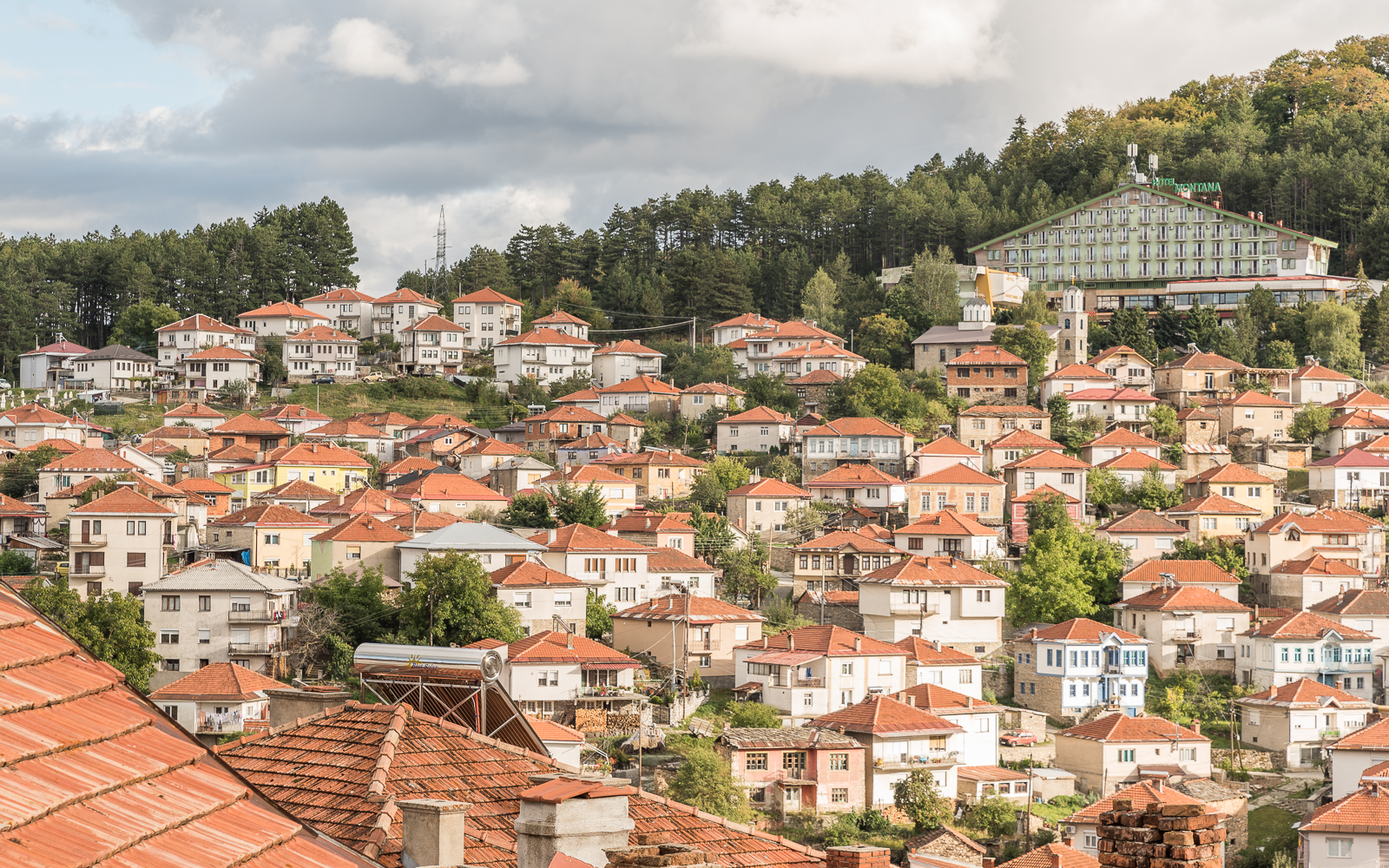 How To Get There: It's only a 30-40 minute bus ride from Prilep with more than 20+ options listed on the schedule so very easy if you just want to head up there for the day. Plus, Prilep has the best bus station in Macedonia*
*Note: Prilep is the only bus station I've been to in Macedonia, but it is super nice.  
Final Notes
I hiked, ate, and marveled my way across the mountains of Kruševo, ending the day with this beautiful moonrise from the slopes of the ski area. If you couldn't tell from the photos and words – I love it here.