Over the last 100 days of quarantine, lockdown, and state of emergency, I've been living in and photographing the southern city of Málaga in Spain. Today, we're taking a look at the art found in the Soho neighborhood.
When you search online for "Málaga street art", pieces from the Soho neighborhood will be at the top of the list. Tucked in between the city center and the beach, this once disreputable area has been rehabilitated by a citizen-led initiative and transformed into a cultural district.
With the easing of lockdown restrictions (yay!), I was finally able to begin making excursions out here for some photography with its mix of international and local artists. As the pandemic has shut down everything in the city, I didn't have the luxury of having someone show me around, so here's my bare bones version of a tour.
I'm starting with my favorite, a combo piece by global artists D*FACE (left) and OBEY (right). It's a stunning collaboration and the first artwork I ever saw in Malaga on my trip from the airport. I made a mental note to get a shot of it "later", not knowing that I was about to be locked indoors for the next fifty days.
DALeast, a Chinese muralist, created this surreal bird mural right as you enter the neighborhood. I'm slightly obsessed with this one, but with the angle and the sunlight, it took me weeks to finally get a shot without shadows.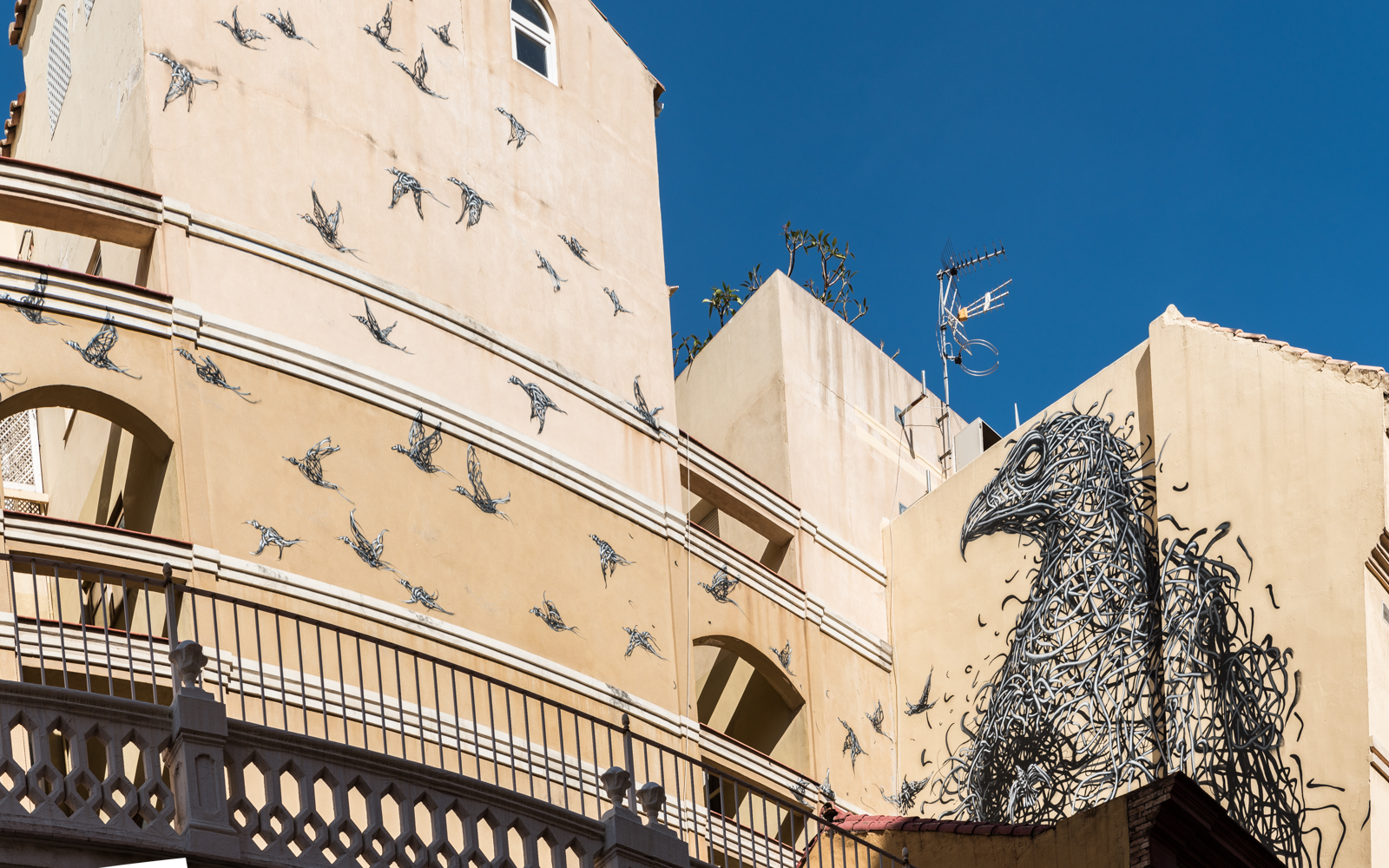 Even before I looked online for info about ROA, an artist from Belgium who creates animalistic murals around the world, I felt that I had seen his artwork before. Turns out I had taken photos of his pieces in both Kyiv in Ukraine and Katowice in Poland. Here in Málaga, he has created two pieces:
A few more pieces around the city center. As I'm limited to mostly online research, I don't have much info on the artists, but will fill it in later as I learn more more about the scene here.
This is a fun series from Italian artist, TV Boy, who has covered the wall with some of the famous people from Malaga like Pablo Picasso, Chiquito de la Calzada, and Dani Rovira.
Soho is bordered by the Guadalmedina River (aka the River of the City) and the walls are filled with tags. There's also some really beautiful pieces hidden down here.
I hope you enjoyed this scattershot trip across the Soho neighborhood, but remember that it all looks so much more impressive live! If you want an in-person tour of Soho, I recommend Street Art Málaga, local tour guides who are passionate about the scene here in the city.