Here is what's in my bag for a summer of music festival adventures, Hopefully, the following list provides some insight and inspiration into your packing choices. Just remember, you don't need as much stuff as you think — that's actually my advice for your life off the road as well.
*Editorial Note: Some of this links are affiliate links, meaning if you click through and purchase something, I will receive a small commission. As I don't run advertisements on this website, it's a nice way to support a  traveling music festival reporter. Now onto the gear!
Bags, Packs, and Sacks
Because if you're carrying everything you own on your back, it better be comfortable.
Cotopaxi Allpa 35L Travel Pack
Through a series of gear trades with my best friend, I was able to lift his Allpa of him for the summer. Like most travel packs, this one features a clamshell opening, so I don't need to pull out everything I own just to get that last pair of clean socks. It boasts a slim profile so that I'm not dinged for baggage fees on flights and has a few hidden pockets to easily reach gear.
Topo Designs Commuter Briefcase
Is it better to have a backpack or a shoulder bag? I went with the best of both worlds with this combo day bag. It's small enough to fit under the seat of an airplane, but big enough to hold all my camera gear along with a laptop. Read my review of the bag over here.
ChicoBag Reusable Grocery Bag
This reusable bag comes in handy at the airport, grocery stores, and to pack in extra supplies to the festival. It's super strong and so durable that it easily lasted through 15 festivals. One of the cheapest, lightest, and most useful items that I brought along this summer.
Camping Gear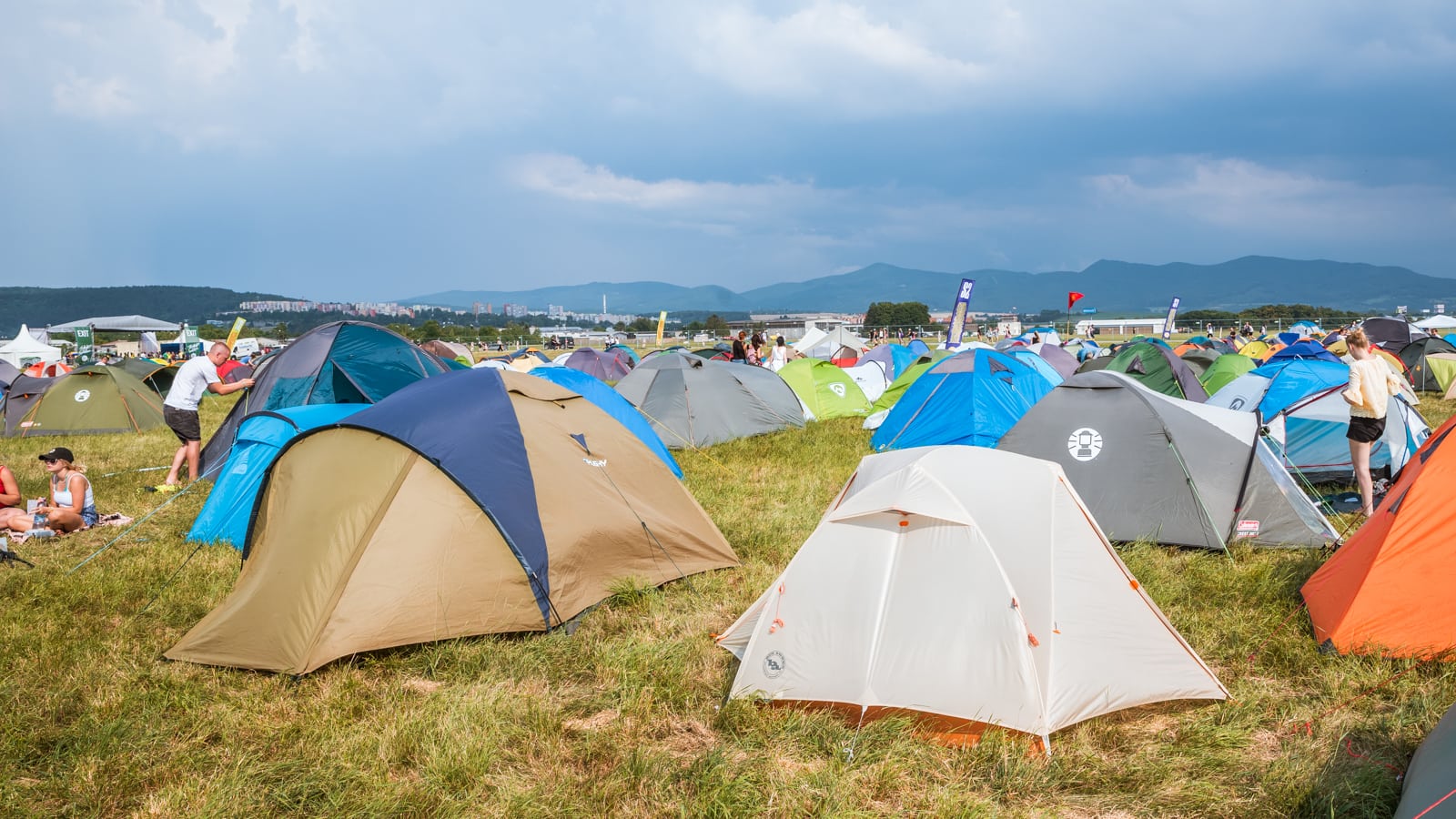 I've been to 77 music festivals in the last five years, and I've camped at nearly 40 of them. Because I need to travel light, I'm really selective with my camping gear.
Big Agnes Copper Spur Classic
My home away from home, this high quality 2-person tent has put in two solid years on the road. Read my full review of the Spur right here.
Big Agnes Cross Mountain Sleeping Bag
Even in August, you can still come across some chilly nights at a festival. I added this lightweight sleeping bag to my kit it 2018 and it hasn't come out of my bag yet. Check out a longer review of this bag over here.
Klymit Ultralight V Sleeping Pad
I've only been using Klymit pads for the last five years. They pack up smaller than a Nalgene bottle and are a decent fit for my budget. I've reviewed both the Klymit V and the Ultralight V versions.
Petzel Tikka Headlamp
I've been traveling and camping with this Petzl headlamp for over a decade. It comes in handy for late night bathroom trips, poking around in your hostel, or when you find yourself lost on the Albanian border after dark. 
ENO SingleNest Hammock
The SingleNest is one of my favorite hammocks. As long as you find two trees (or any two solid anchors), you're ready to hammock. The high quality carabiners also come in handy for clipping waterbottles and other gear to my bag when I'm not hammocking.
Camera Equipment
Every summer I snap 40,000+ photos. It's one of my favorite parts of the job, but like the camping gear, I've got to really picky with what fits in my bag.
Nikon D750
I upgraded to a full-frame camera in 2018 and it was a game changer. The Nikon D750 takes crisp shots, has a beautiful dynamic range, and works well in low-light. If you're looking for samples, all photo galleries and articles from 2018 and 2019 on 100 Nights of Summer were taken with the D750.

Tamron 24-70mm f/2.8 G2 Lens
If I could only take one lens out for 100 Nights of Summer, it would be this one. This general all-purpose lens is what I use for about 75% of my festival photos and 100% of my travel pictures. Tamron lenses are excellent glass and tend be around $1000 cheaper than their Nikon counterparts which means more time on the road for me.

Tamron SP 70-200mm f/2.8 G2 Lens
After four years, I finally added a second lens to my kit. Logistics Vito worried about the size, weight, security, and price of this lens while on traveling, while Photo Vito ended up taking the best pictures of his life. Suck it, Logistics Vito.

BlackRapid Sport Breathe Camera Strap
My Holy Grail quest for a comfortable camera strap was completed this year when I picked a BlackRapid.

32 GB SanDisk SD Cards (6)
The smaller size cards help me with organization, and if there's a card fail, I'm not losing an entire weekend of shots — that only happens when I fall ass backwards on a pile of rocks and smash my laptop.
Electronics
All the various gizmos and gadgets that power the 100 Nights of Summer Tour.
Lenovo Thinkpad
I need the cheapest laptop that can still run Lightroom. I rarely pay more than $600 for laptops. Why cheap as possible? Because I don't work in a typical office, and there's the possibility that I might slip on wet rocks in Wales and crush whatever is in my bag.
SeaGate 1TB External Hard Drive
I take too many pictures and the Internet in some countries (I'm looking at you Spain, France, and Italy) is too unreliable for me to realistically back my photos up on the cloud.
GoPro Hero
I rarely use it at festivals, as the D750 better for video, but this insanely lightweight cube is fun for hiking and other non-festival adventures.
Huawei Y6 Phone
I spent all my money on camera gear, but this $150 phone fulfills all my needs. I typically spend around $10-15 a month for nearly unlimited data, so a small glimpse of what your life without AT&T and Verizon would look like.
Logistics Wireless Mouse
When you're looking are wireless mouses, spend the extra $5 on Logistics over a generic brands. They are excellent and will not shatter into a million pieces when you drop it on the ground.
Chargers and Spare Batteries
Power, power, power. Some of this stuff can be difficult to find on the road. I always have a spare camera battery, extra charging cord for my phone, and an extra adapter for European plugs.
Music and Noise
Most of my music gear works double duty — like protecting my ears hearing during metal shows while also muffling the screaming Germans in the campsite.
Bose SoundSport Headphones
These never leave my pockets. From watching Netflix on the train to crowded coffee shops to just decompressing in my tent with some music, these are decent mid-range earplugs.
Speaqua Cruiser Bluetooth Speaker
This little speaker clips are perfect for both campsite chilling and when I'm solo hiking and want to let bears know that I'm on the trail.
Vibes Hi-Fidelity Earplugs:
I don't care how much you spend on earplugs, just get some and protect your hearing. After reviewing a number of excellent pairs last spring, Vibes ended up being my favorite. Want some more recommendations?
Alpine PartyPlug Pro Earplugs
I'm a music festival expert, so of course I have a backup pair. You should too.
Generic Earplugs
I always carry a few unopened pairs of cheap earplugs for friends or colleagues who suddenly find their eardrums are being blasted out. Because they weigh almost nothing, are cheap/free, and can save someone's festival, bring a bunch of these along and become the campground hero.
Footwear
Shoes, boots, and sandals are some of the heaviest and bulkiest items you can take on the road. I limit myself to three pairs – all-purpose hikers, a pair of closed toe hiking sandals, and a pair of flips.
Scarpa Mojito 
I buy one pair of shoes each summer and proceed to beat the living hell out of them. In the battle for my feet over the last five years, Scarpa is the clean winner for durability and style. Both pairs of Scarpa shoes still look fresh after eight months of heavy use.
Chaco Sandals
These sandals are pricey because you can basically hike in them like normal shoes. Still, they're way too expensive for me which is why I jumped on a $10 pair on the local outlet (okay, they might be the wrong size, but $10?!). I use these mainly for rain events and exploring cities.
Reef Flip-Flops
Festival/hostel showers are disgusting so I need a pair of flips. They're also great for the beach and kicking it around the campsite. I usually pick up whatever pair is on sale and under $15.
Socks Various Brands (8 pairs)
Somewhere, there's a black hole vomiting out the dozens of single socks that vanish from my bag. It's the one clothing item that I always seem to lose. I do like to pick up various colors so I know which ones are clean and which ones need to be re-shoved into the dark corner of my bag.
Jackets/Layers
Another bulky addition to your backpack are jackets. Even though it's summer, it can still get ridiculously chilly at night so I always have a couple warm layers like hoodies on hand paired with a super packable all-weather coat.
Gore-Tex Sample Rain Coat
In a previous life, I worked for GoreTex and they gave me this coat. It's seen better days, but I also don't care if I lose it. I should point that that even a free sample coat from Gore-Tex is still holding together after 18 years.
Mountain Hardware Ghost Whisperer Jacket
I added this to my kit two years ago, and it's been a staple ever since. It turns out that even in summer, having a lightweight insulated layer is crucial for cool summer nights in places like Scotland and Sweden. When it's too hot, this jacket rolls up into its own pocket, and becomes my travel pillow.
North Face Boxed Out Hoodie
I got this $50 hoodie for free when I bought my $1200 season pass to Big Sky. What an incredible deal. You can see why I don't live in Montana anymore.
All Day Hoodie
My friend Adam gave this hoodie to me because it didn't fit him and it's become a staple of my life. It's the only item on this list that's made it through all five seasons of 100 Nights of Summer and is my favorite item of clothing ever.
Update: I left this shirt at a train station in Salzburg, Austria. Goodbye dear friend. 
H&M Button Down Shirt
I bought this shirt during the first year of the tour during a heat induced delirium in Pisa. During that time, it's become a staple when I need to "dress up" or "look like a normal adult who doesn't live in a tent."
T-Shirts (6)
I like to wear lightweight, cotton t-shirts that dry quickly as I tend to sweat through them. I've tried fancier materials, but they didn't keep me any cooler. Technically, as a festival photographer in the pit, I should be wearing black, but it's the only color I don't own. Too hot in the summer.
The Bottom Half
In this world, you've unfortunately got to wear pants. I bring along one pair of travel/adventure pants, jeans, and three pair of shorts (one of which doubles as my swimsuit).
prAna Brion Pants
Light, durable, and breathable – these are my go-to pants when the weather takes a turn for the chill. They're comfortable enough for hiking, dry out quickly after rainstorms, and look stylish enough to wear in almost any situation. I've even slept in them a few times on cold nights, and they roll up to a size smaller than my shorts.
Levi Jeans
I buy one pair of Levis each year, always the same style and color. Jeans work in just about situation you can imagine, hardly need to be washed, and hold up well under hard traveling.
Volcom Shorts (2)
I've been using the same two pairs that I picked up TJ Maxx for $15 each. I want to switch shorts when these start to fall apart which hasn't happened after three years of near constant summer use.
EMS Camp Cargo Shorts
Yeah, that's right, I'm bringing back cargo shorts! I worked on an Eastern Mountain Sports tour decades and heavily use these "adventure shorts". They're quick drying and light so great for hiking, hot days, and quick swims.
Uniqlo Underwear (6 pairs)
I hate "travel" underwear. It's overpriced and their claims are bullshit, which is why the only brand I buy is Uniqlo. They are mad cheap, quick drying, and I have yet to see a tear in my first pair (running on five years).
H&M Underwear (2 pairs)
After Norwegian Airlines lost my bag for three days, I had to pick up a pair of the world's worst underwear. They are actually pretty comfortable, but have a tendency to rip apart like the shit fast fashion that they are.
Volcolm Bottle Opener Belt
It holds my pants up and opens beer. What else more do I need to say?
Accessories
Or as I call it, everything else in my bag.
Outdoor Research Radar Pocket Cap
This hat folds up into my pocket and keeps the rain off my face.
Baseball Cap
As much as I love the technical hat, it also looks terrible in any situation that doesn't involve hiking, which is why I have a backup hat.
Rayban Aviator Sunglasses
In a previous life I worked for Rayban, and this is the last pair that I haven't shattered or lost.
Rainleaf Microfiber Towel
These microfiber towels are incredible. They're tiny, but absorbent, and much better than using your t-shirt after a campsite shower.
Platypus DuoLock Softbottle
This collapsible soft bottle comes equipped with a carabiner, and a nice large opening to easily pour in the contraband booze that I plan to smuggle into a festival.
Ziplock Freezer Bags (2)
These are the wrong size for airport security, but the only people that will give you a hassle are the Germans.
Health and Wellness
Ever-Ready First Aid Kit: For small cuts, scrapes and other minor issues, having a first aid kits saves a ton of time on the road. You'll also make some friends in the campground when you produce a much needed band-aid.
Allergy Pills: I don't know what I'm allergic too, but it's definitely something. Don't buy these online.
Fiber Pills: Without going into specifics, I make terrible food choices while traveling.
Anti-Diarrhea Pills: Without going into specifics, I make really terrible food choices while traveling.
Condoms w/Hard Case (pun intended): If you don't put them in a case, they will get destroyed in your pack.
Klean Kanteen Insulated Classic: Because you got to stay hydrated and healthy! And also because this keeps vodka cold for days.
Final Thoughts On Packing
The best travel gear you can get is typically the gear you already own or can borrow from friends and family. My list above are the items I've accumulated over five years of being on the road and as as travel expert, so don't feel like you need to go crazy when planning a festival trip to Europe.