Inspired by protesters from around the world, I took a hard look at my carbon footprint traveling to 15 festivals in 15 weekends and decided things have got to change. Over the last four summers, I've taken many airplanes to hit that festival sweet spot, but for 2019 I wanted to lessen my environmental impact by riding the rails as much as possible.
Enter The Eurail Pass
If you're planning on taking long-distance trains or your travel plans are unpredictable (or you're like me and don't make plans until two days in advance), look into purchasing a Eurail Pass. The pass is an all-in-one train ticket giving you flexible access across 31 countries to a whopping 40,000(!) destinations in Europe.
Additional Reading: What Eurail Pass is Best for My Festival Adventure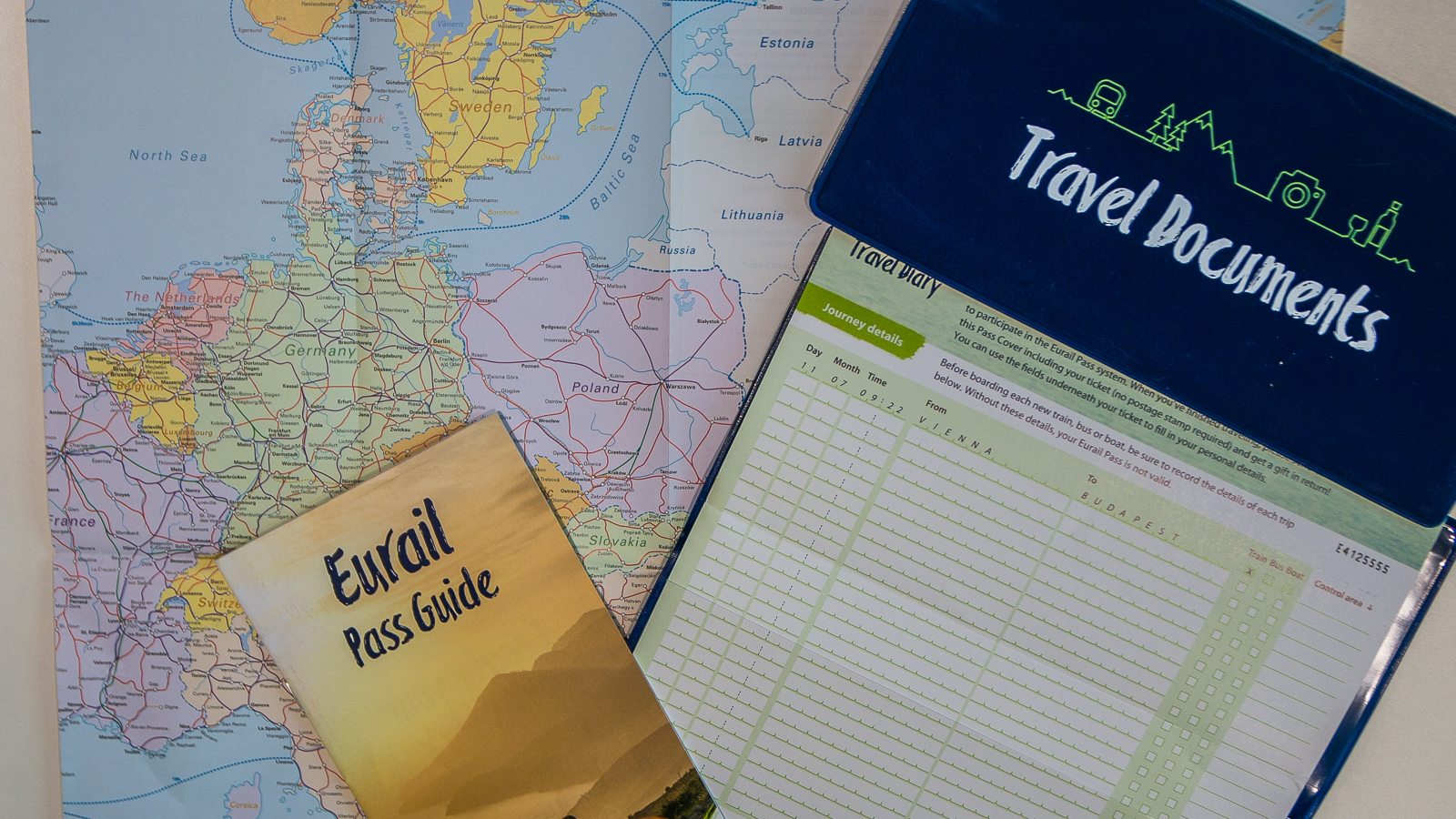 By The Numbers
Days on the Road: 107
Days Travelling By Train: 32
Festivals Traveled to by Train: 12 out of 16
Number of Train Trips: 54
This summer I used two 15 day/2 Month Eurail Global Passes for the 100 Nights of Summer 5th annual tour across Europe. In upcoming articles, I'll be talking more about the advantages (no baggage fees!) and tips about Eurail, but for now let's take a look at some specific days I loved during my 107-day journey across the continent.
The Highlights of Festival Travel By Train
Days #1-#107: The Entire German Rail System
Heading To: Heartland, Denmark/Mad Cool Festival, Spain/La Route Du Rock, France/Pol'and'Rock, Poland/Guca Trumpet, Serbia/Nova Batida, Portugal
My favorite rail system in Europe also sits in the middle of everything. Like you might expect, German trains are fast, clean, and efficient with so many departures that I stopped checking schedules and just showed up at the station. If Germany is anywhere on your travel itinerary, you'll have a very easy time riding around by train.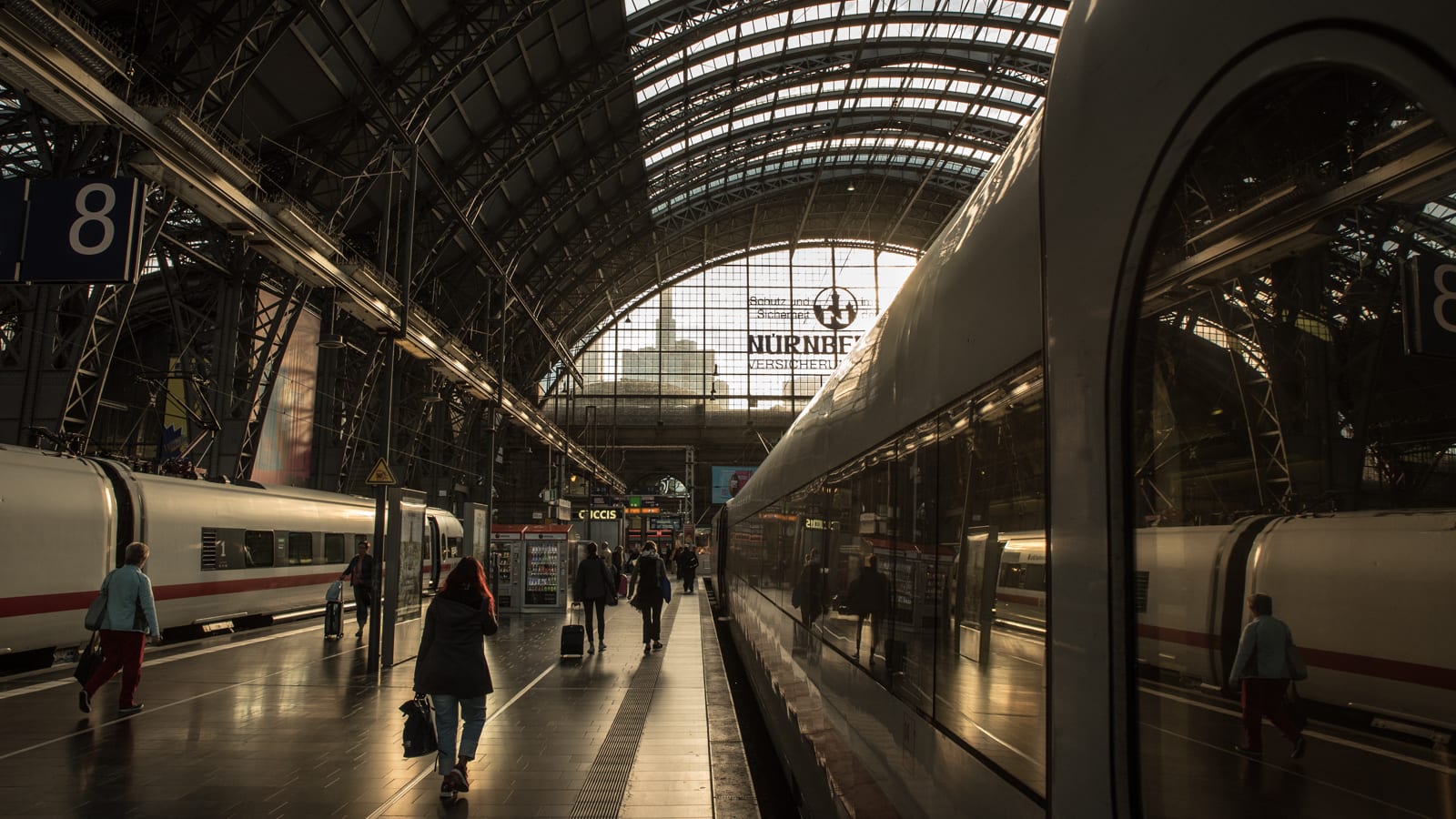 Day #7: I'm On a Boat! 
Heading To: Sideways Festival, Finland
Hold on, that's not a train. I know, but one of the benefits of Eurail is seriously discounted tickets on ferries across Europe, a perk I took advantage on with this overnight cruise ship from Stockholm to Helsinki with Viking Line. The M/S Gabriella boasts a gigantic store (perfect for stocking up on ferry drinks), a late night disco club, casino, and a live music bar. Rooms aren't too expensive, or if you're a music festival reporter, just sleep in the lounge for free.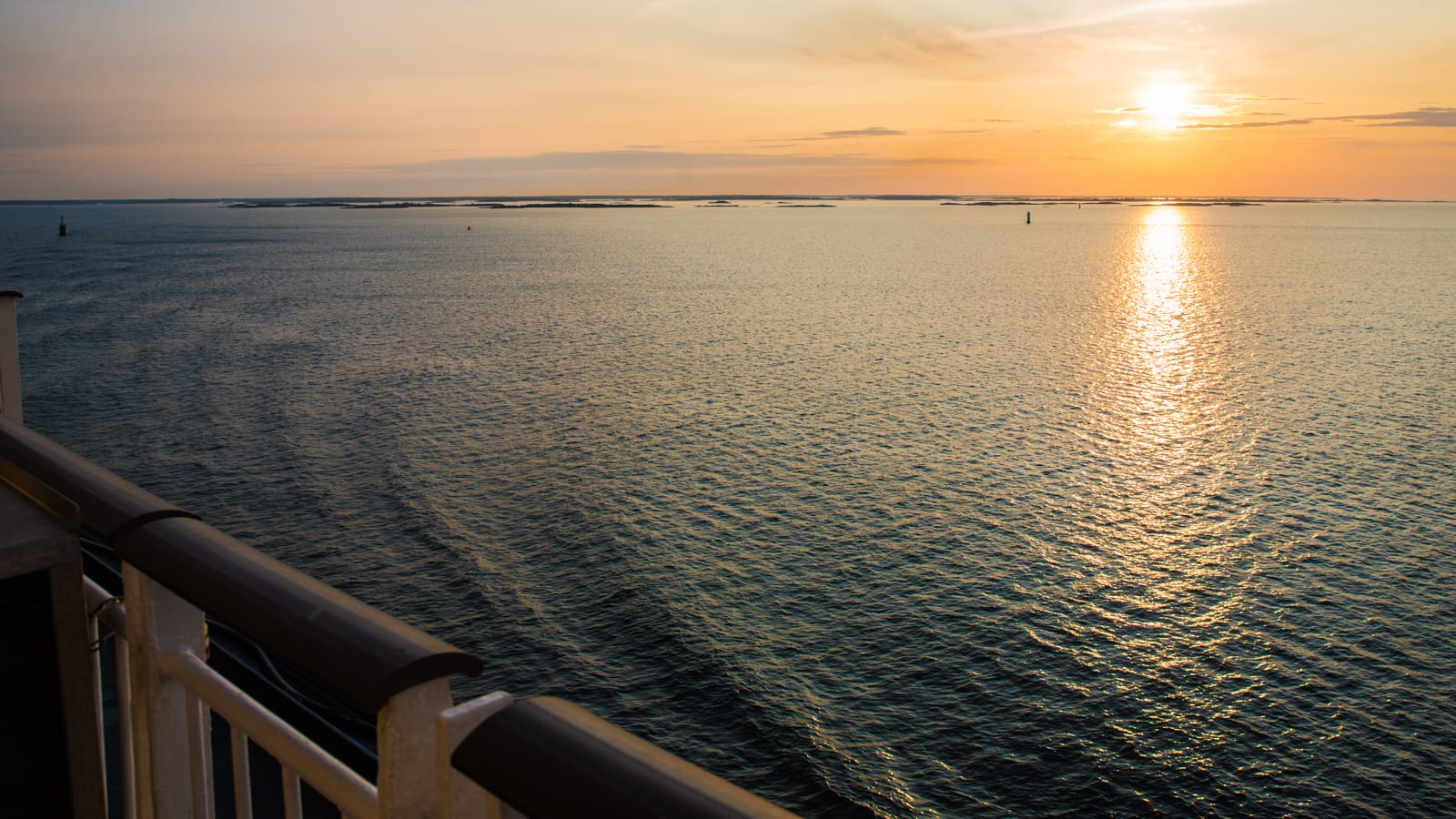 Day #26: Chilling In the Sunshine
Heading To: Siren's Call, Luxembourg
I couldn't take the train everywhere in Europe — it turns out the Black Sea gets in the way when you're heading to Georgia, so I did end up taking a flight to Vienna.  This may not be the prettiest station I've ever seen, but I did find this fake turf so comfortable that I woke up with drool on my chest.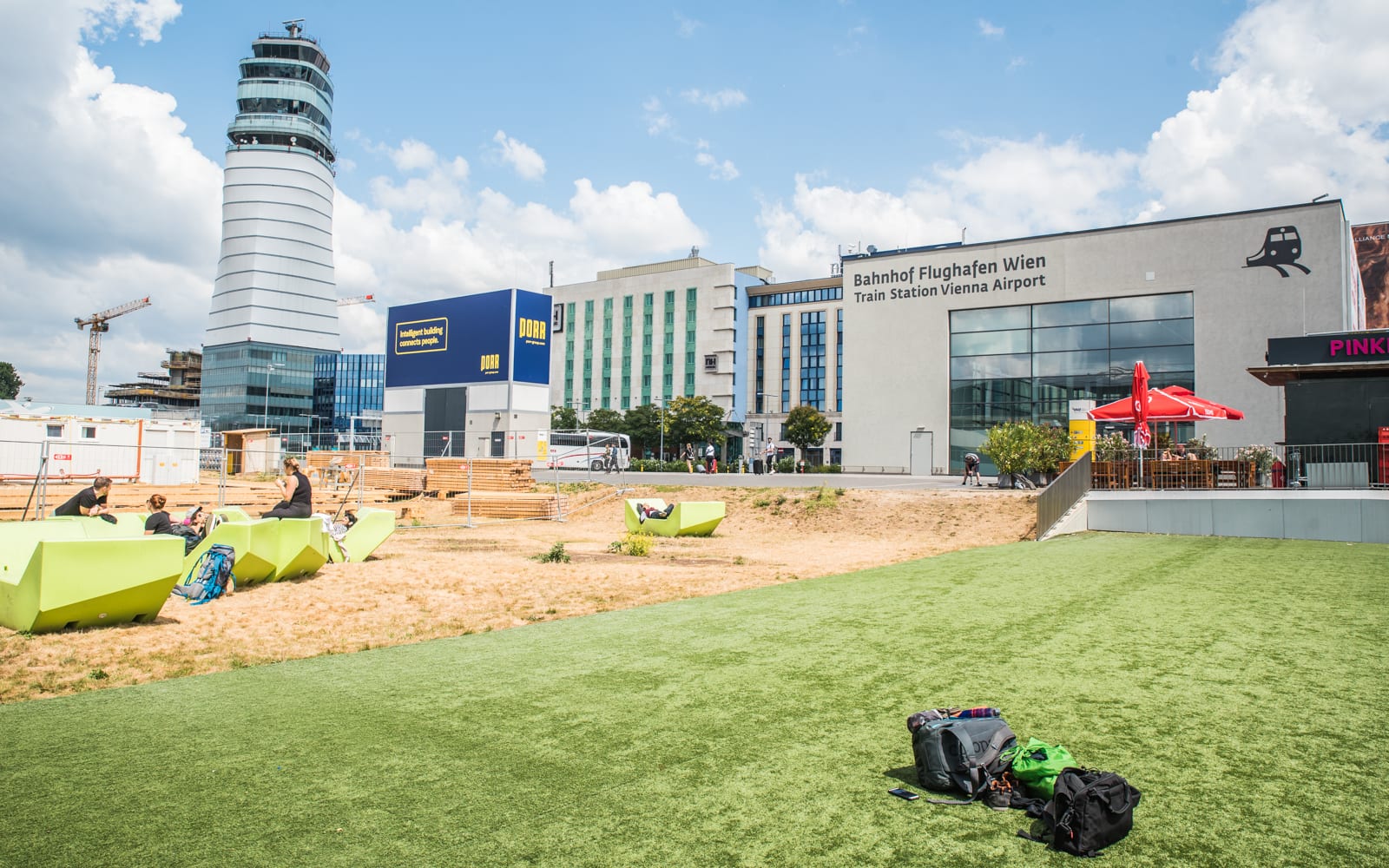 Day #28: First Festival In Luxembourg
Heading To: Siren's Call, Luxembourg
There is nothing more exciting to me than arriving in a new country by train, especially when you are also there to cover a festival for the first time in that country. Why do I like arriving by train? Because more than often than not, you show up right near the city center and not in a field 45 kilometers away.
Day #44: Living That First Class Life 
Heading To: Mad Cool Festival, Spain
One of my favorite perks traveling with a first class Eurail pass is access to lounges in train stations like Vienna and Rotterdam (pictured below). I stocked up on snacks and drinks while writing festival reviews from the comfort of an air-conditioned couch. The other main perks besides lounge access are quieter cars and larger seats on trains.
Day #46: I ♥ Budapest Keleti
Heading To: Electric Castle, Romania
The central station of Budapest, the gateway to Eastern Europe, is such a beautiful building and one of my favorite stops. Cross border travel can by insanely frustrating in this part of the world, but Keleti easily connects travelers to Belgrade, Cluj, Brasov, Lviv, Zagreb, Lubijana, Bratislava, and Vienna. There's loads of overnight trains out of here as well if you're planning a nighttime adventure.
Day #62: The Eurostar Adventure
Heading to: Pol'and'Rock
Do people have bucket list for trains? I do, and I finally got to knock the famous Eurostar off it this summer speeding under the English Channel at 99 mph in a tunnel. London is a struggle for air travel with nearly every major airport at least an hour away. With my Eurostar connection to Brussels, I just strolled from my hostel to the majestic St. Pancras Station and was in Brussels in just over two hours! Sure, I didn't meet my future wife or have sex 45 meters underground, but still an enjoyable experience all the same.
Day #63: Train Station Party!!!
Heading To: Pol'and'Rock, Poland
When a lightning strike in Berlin disabled the tracks to the legendary Pol'and'Rock, we ended up having an impromptu party session here in Germany with this international crowd. This tends to happen quite a bit when you're traveling to festivals by train.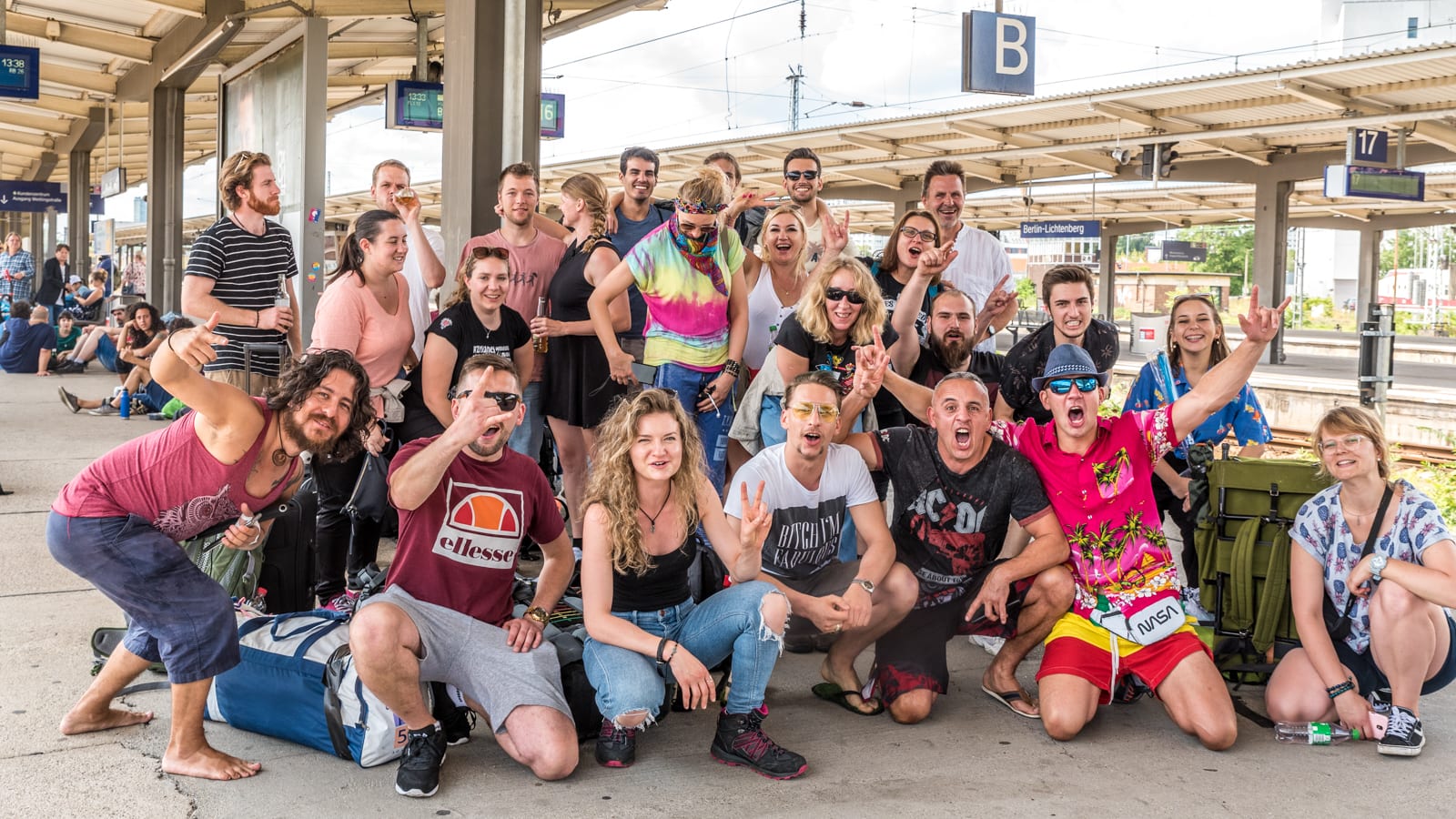 Day #101: The French Overnighter (Paris to Toulouse)
Heading To: Nova Batida, Portugal
One of the reasons I take so many planes is because I'm on such a tight schedule, but I really opened up my free time by taking six overnight trains this summer. They're not always the most comfortable ride (I'm looking at you Portugal), but this overnight train from Paris to Toulouse in the south of France cost the same as a hostel. And I had a relatively comfortable top bunk in a four person room with three French strangers.
The Lows of Train Travel (And What I Learned From Them)
Day #45: Can I Get a Reservation?
Heading To: Mad Cool Festival, Spain
Even with a Eurail pass, you may still need to purchase seat reservations. This is generally a painless process — until I tried to travel through France. I typically paid between $3-$14 for reservations, but was gobsmacked to find that it would cost me $44 to get to Barcelona – about $10 more expensive than a plane ticket.
Lesson Learned: If you're traveling in the summer, especially in France and Italy, you'll want to book your train tickets and seat reservations as far in advance as possible or you may find the train booked up.
Day #77: New Isn't Better
Heading To: Guca Trumpet Festival
I was disoriented when got off the train in Belgrade as I've been here a number of times before and nothing about this station felt familiar. It turned out I was in the new Central Station of Belgrade, a half-built underground bunker set nowhere near the city center. This is really too bad, because the former historical station is an absolute beauty that I hope to see functioning again.
Lesson Learned: Always expect the unexpected and be prepared for travel twists.
Day #105: The Overnight Trenhotel
Heading To: Nova Batida, Portugal
All overnight trains are not created equal, a fact I found on the infamous Trenhotel that departs nightly from Madrid to Lisbon. The beds were sold out which meant an uncomfortable night in a seat, in one of those complicated situations where you're bumping knees with the stranger across from you while the stranger next to you is falling asleep on your shoulder.
Lesson Learned: In theory, overnight trains can be a big help to your travel plans, but in real circumstances I've had mixed results leading to some "zombie days" from lack of sleep.
Disclaimer: Eurail Pass provided me with two 15-day/2-month passes for the purposes of review. This is not sponsored content and I am not obligated to provide a positive review. We do have an affiliate relationship with Eurail which means we may receive a small commission if you purchase a pass through our links.